Making 1 Grand a Week with Accumulator Betting System
If you are new to the world of sports betting you are probably in that electric phase were you rub your hands and drool with the thought of making tons of money really fast thanks to your football or any other sport addiction. Soon you will find out how easy it is to lose money and how hard to win it.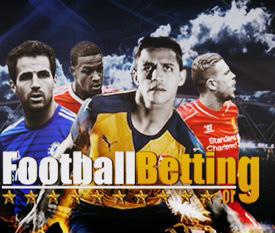 But worry not, even if you are not the best of punters or sports analysts there are very profitable ways to make a living from sports betting as long as you have a
strong money management plan
in place, and one of those ways is with
sports betting systems
.
The 1 Grand in 1 Week Challenge
Footballbetting.org has documented a sports betting system that is being widely used by pro tipsters on twitter generally called
The 1 Grand a Week Challenge
. This system aims to make £1,000 pounds from just a £20 bet using an accumulator bet system.
Accumulators
for those who are new to sports betting are a string of bets that are tied-up on one single bet. So the initial stake will comprehend a total of several bets, in this case 10 bets. Lose one and the whole bet fails. But with the Accumulator betting system success is improved with some modifications to a regular accumulating system that can even eliminate risk on the early stages of the betting system.
The risk reward ratio is amazing, with
4,000% in possible gains by turning £20 pounds in £1,000 in just one week.
The betting experts at FootballBetting.org explain how to apply the system by yourself in all its simplicity, but also suggest
pro tipsters who apply the system
on a regular basis and how to gain access for free.
More Accumulator Systems
There are many Accumulator systems that have been created since sportsbooks began to offer them online, this list of 10 and plus more systems explain the multiple strategies that exist with this bet type.
Accumulators are very hard to nail, but the payout is usually 7 or more times the initial wager. Pro bettors use them with well analyzed sure-bets, and by sure-bets we refer to bet matches were you know which team will probably win no matter what. The odds for each bet pay small but the combination of bets increase the payout.
Used in conjunction with a well thought money management and bankroll plan
a sports bettor can make huge profits and a living solely from sports betting. Here is a small list of accumulator systems, the list keeps increasing to unimaginable levels:
Trixie Bets –
These consists of 4 bets on three different matches. 3 doubles and 1 treble bet. Trixies are used when all the selections are popular sure-winners like Barcelona, Real Madrid or Chelsea since the combination of bets increase a payout with low-paying odds.
Patent Bet –
This is a Trixie bet with three single bets. In other words a money making accumulator with three individual bets that make a total of 7 bets. Get just one bet right to end in profit, reason why this is the most popular of all the accumulator betting systems amongst experienced bettors.
Yankee Bet –
6 doubles, 4 trebles and 1 four-fold accumulator bet. That is 4 selections of 11 bets in total. Get one of these right and make tons of money. Get two selections from the 4 correct to end in the winning side.
Lucky 15 –
This is a wager on 4 selections made up from 15 different bets; 4 singles, 6 doubles, 4 trebles, and 1 four-fold accumulator. Get 4 predictions right to receive a positive return of your stake.
*Follow the link for
12 + more accumulator betting systems
all the way-up to 26 selections in the "Alphabet Betting System" and other exotic combinations.